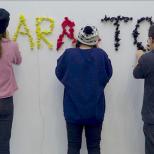 The INVC program honours the creative traditions of First Nations, Métis and Inuit art and design practices.
Deepen your understanding of the visual, cultural, social, and political histories of Indigenous peoples and explore your own art and design through a supportive studio-based learning environment. You will take electives in painting, drawing, printmaking, sculpture, installation, digital media and more.
Students in the program receive academic, cultural, social, and wellness support through the Indigenous Student Centre. Learn more about supports and resources offered to Indigenous students here.
INVC students are leaders. They are open to taking risks, experimentation, decolonizing, and are motivated by contributing to their home communities. INVC students are interested in social justice and honoring family, community, culture and nation. Students in the program contribute to, and continue, the history of innovative artistic production by our Ancestor artists.
INVC students have a variety of experiences or interests in beadwork, drawing and painting, regalia making, sculpture and installation, storytelling and performance. Many are passionate about the relationships between objects and spaces or places they're found in. Others are interested in screens, games, digital media production or computer programming. The INVC program, in partnership with the Indigenous Student Centre, connects INVC students to Indigenous artists across Turtle Island through mentorship programs, open studio visits, artist talks and more.
Applications to the Indigenous Visual Culture program are still open for fall 2022!
At the End of this Program...
At the end of this four-year program, you will earn a Bachelor of Fine Arts (BFA) degree.
Admissions Requirements
For Ontario high school students, a minimum overall average of 70%
Statement of Intent
Official transcripts
Jobs You Can Get
Graduates of the INVC program work at:
Arts and community-based activism and advocacy
Education and workshop facilitation
Independent artists and entrepreneurs
Museums, galleries and archives
Publishing, media, communications and design organizations
Internships & Experiential learning
OCAD U offers so much more than co-ops because creative careers take many forms. Our career services help you build a professional community, valuable experience and skills you need for a meaningful career. Get access to:
Short experiential learning placements from among hundreds of organizations
Creative in-class projects with real-world industry partners
Exclusive summer internships
Gallery exhibitions of your work
Freelance creative opportunities
Jobs after graduation
What You'll Do in the Program
In all undergraduate programs you can choose to take a minor alongside your major to explore and expand your practice. Minors give you the opportunity to pursue a focused secondary field of study in addition to or sometimes instead of taking electives in your program and can help you look better for employers or in grants or grad school applications.  You don't need to choose a minor on your application – rather once you start at OCAD U, you'll be able to choose from over 90 electives that can build towards one of our 25 focused minors. Learn more about Minor Programs here.
Program
Indigenous Visual Culture
Degree earned
Bachelor of Fine Arts
Faculty
Faculty of Arts & Science
Take the Next Step