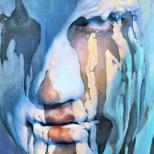 Explore new forms of digital artmaking, installations, and experimental approaches to painting.
In the Drawing & Painting program, you'll learn to become a creative and engaged artist. You can concentrate on your drawing and painting studio skills and study art theory, history and contemporary social issues. You'll learn to speak and write about your artwork in various formats. A wide variety of options for courses are available that include digital, landscape, figurative, mixed media, and abstract painting. 
Your instructors will also encourage you to explore new forms of digital artmaking, installations, and experimental approaches to painting. Our instructors are professional artists who share their career advice and provide one-on-one, in-depth, feedback on your progress.  You'll have many opportunities to present your work professionally in public exhibitions. 
Drawing & Painting admits first-year students directly into the program. Applicants selecting this major will have their portfolios reviewed by Drawing & Painting faculty for the limited number of spaces available for direct entry. Applicants not accepted for direct entry will be considered for the general, first-year program, allowing you to explore our other programs. Courses in painting and drawing will still be available to you.
At the End of the Program...
At the end of this four-year program, you'll earn a Bachelor of Fine Arts (BFA) degree. 
Admissions Requirements
For Ontario high school students, a minimum overall average of 70%
Statement of Intent
Official transcripts
Jobs You Can Get
Practicing artists  
Curators  
Cultural programming coordinators 
Museum and gallery administrators 
Illustration and mural artists 
Art teachers   
Arts administrators 
Art conservators and restorers 
Writers and critics 
Studio managers 
Arts advocacy officers 
Artistic directors  
Internships & Experiential learning
OCAD U offers so much more than co-ops because creative careers take many forms. Our career services help you build a professional community, valuable experience and skills you need for a meaningful career. Get access to:
Short experiential learning placements from among hundreds of organizations
Creative in-class projects with real-world industry partners
Exclusive summer internships
Gallery exhibitions of your work
Freelance creative opportunities
Jobs after graduation
What Will You Do in the Program?
In all undergraduate programs you can choose to take a minor alongside your major to explore and expand your practice. Minors give you the opportunity to pursue a focused secondary field of study in addition to or sometimes instead of taking electives in your program and can help you look better for employers or in grants or grad school applications.  You don't need to choose a minor on your application – rather once you start at OCAD U, you'll be able to choose from over 90 electives that can build towards one of our 25 focused minors. Learn more about Minor Programs here.
Program
Drawing & Painting
Degree earned
Bachelor of Fine Arts
Take the Next Step