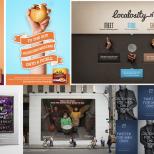 This is Canada's top advertising program. Take classes in graphic design, branding, creative copywriting and career-building skills.
More than half of students get offered jobs before they even graduate at Canada's only four-year university advertising program.
In this program, instructors who work in the advertising field will teach you:
Design
Storytelling
Digital
Copywriting
Typography
Layout
Strategy
Consumer behaviours and market research
Art direction
Film
User experience
Public relations
You will learn storytelling from many different points of views. You will be encouraged to challenge tradition and consider different viewpoints and values.
In fourth year, you'll work in boot camps with real clients and create real campaigns. In the past, students have worked with McCain Pizza Pockets and Sony Playstation. This means you can say you've sold a creative concept before even finishing school – a huge advantage when you're looking for a job.
You'll also benefit from guest speakers from Canada's biggest ad agencies and have the opportunity to do internships. Acclaimed alum of the program include many top creative directors in Canada and worldwide, including Elspeth Lynn, Creative Director for Saatchi & Saatchi in London, UK, Wain Choi, Global VP ECD at Cheil Worldwide in Korea and Carlos Moreno, Global Chief Creative Officer for Cossette.
At the End of this Program...
At the end of this four-year program, you will earn an Honours Bachelor of Design degree
Admissions Requirements
For Ontario high school students, a minimum overall average of 70%
Statement of Intent
Official transcripts
Jobs You Can Get 
More than half of fourth year students have jobs lined up before they even graduate. Many of Canada's top advertising creatives are graduates of OCAD U's program.
Advertising agencies and marketing firms
In-house marketing for companies
Digital agencies
Design companies
Production and film studios
Internships & Experiential learning
OCAD U offers so much more than co-ops because creative careers take many forms. Our career services help you build a professional community, valuable experience and skills you need for a meaningful career. Get access to:
Short experiential learning placements from among hundreds of organizations
Creative in-class projects with real-world industry partners
Exclusive summer internships
Gallery exhibitions of your work
Freelance creative opportunities
Jobs after graduation
What You'll Do in the Program
In all undergraduate programs you can choose to take a minor alongside your major to explore and expand your practice. Minors give you the opportunity to pursue a focused secondary field of study in addition to or sometimes instead of taking electives in your program and can help you look better for employers or in grants or grad school applications.  You don't need to choose a minor on your application – rather once you start at OCAD U, you'll be able to choose from over 90 electives that can build towards one of our 25 focused minors. Learn more about Minor Programs here.
Degree earned
Bachelor of Design (Honours) (BDes)
Faculty
Faculty of Design
Take the Next Step